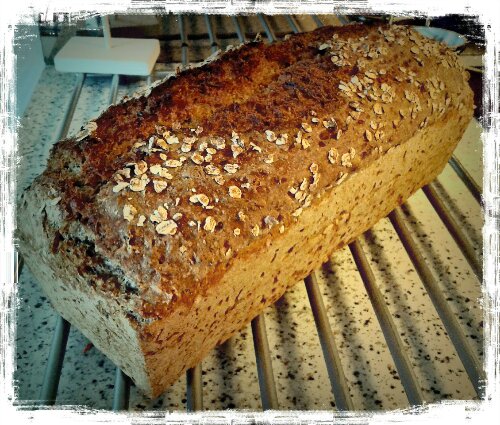 Nothing is as good as homemade bread. It does not get easier than this recipe. Takes only 5 minutes to make the dough. Perfect results every time.
Mix this in a large bowl:
300g wholemeal flour (Create your own variation. Mix like several types of wholemeal flour)
300g flour
1 tsp salt
1 tsp dry yeast
Add:
6 dl water
2 tablespoons of olive oil
Mix well with the tablespoon. Put a lid over the bowl and let rise 5-8 hours on the kitchen counter. Preferably overnight. If you raise the bread faster can also use half a packet of fresh yeast and luke warm water. Then raise the dough 1-2 hours. It will give an even better result.
Pour everything into a loaf shape. Use a spatula. If desired, decorate with some oatmeal or flour. Bake for 55 minutes at 200 degrees on the bottom shelf.